ASIC & AUSTRAC Regulated with bank level encryption and security, but without the need to visit your bank

Your firms own personal account manager that handles the process and transfer for you and who are based in Australia

Achieve your clients a substantially better financial outcome with Send's exchange rates with zero fees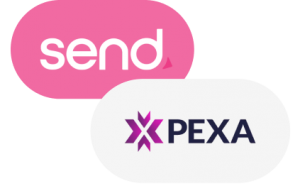 Send are your partner for overseas property settlements, direct from the PEXA exchange to overseas bank accounts
Send Payments are the partner for large numbers of conveyancers throughout Australia, to assist with their international TT and payments when they have requirements to transfer settlement funds internationally to overseas bank accounts.
Not only does this save conveyancers significant amounts of time, it also enables them to obtain a better financial outcome for their clients than using a bank.
No longer do you need to travel to a bank in person to process an international TT,  complete paperwork or worry about the foreign bank account details being incorrect – your personal account manager at Send can help and guide you through the process, both online and over the phone in minutes.
Upon receipt of your clients funds, Send can typically transfer them to foreign bank accounts in over 180 countries, typically within just 24 hours.
Quickly submit your contact details via the form above for more information, this only takes a couple of minutes to complete.
Your new personal account manager at Send will contact you to discuss our services and assist in setting up your free account.
Once opened, you can quickly and securely transfer funds direct to Send via your Trust Account or the PEXA workspace if it is a property settlement.
Frequently Asked Questions
These are some of the questions that you may want to ask:

Who are Send?
Send are a multi-award winning Australian based, non-bank, high volume international payments and foreign exchange specialist that assists law firms, conveyancers and their clients with cross-border transactions to and from Australia.
Voted Best Australian International Money Transfer Provider, Best Value Provider Provider and Best Quality Provider 2023.
Send provide their services not only to law societies members but to clients and employees of leading Australian businesses and organisations, including PEXA, AIC's, Flight Centre, Qantas, Grace Removals, Accenture and the Woolworths Group.

Why should I use Send instead of my bank?
Send are experts and can achieve significantly better exchange rates than banks around the world. This can often result in tens of thousands of dollars extra from the funds transfer from a property settlement or estate transfer.
On a typical transfer of $1M from an estate transfer, you could be potentially losing your client up to $40,000 of their money by processing the international transaction through your bank.
Combined with fast transfer times, no Send fees on transactions and a dedicated account manager to support law firms, Send provides a great alternative to the banks. 

Is it safe to transfer my money with Send?
Keeping funds secure is of the utmost importance to Send. SendFX Limited ACN 617 647 220 is regulated by the Australian Securities and Investments Commission ('ASIC'), is a registered remittance provider with the Australian Transaction Reports and Analysis Centre ('AUSTRAC'), is a member of the Australian Financial Complaints Authority ('AFCA') and holds an Australian Financial Services Licence ('AFSL') (No. 509635). 
Send bank in partnership with some of the world's largest financial institutions.
Clients funds and data are encrypted with 256K bank level security.
All funds are covered under Send's professional indemnity insurance.
Disclaimer;
This is not a PEXA product or service.
This information does not constitute financial services advice. It is general in nature and doesn't take into account your personal circumstances and objectives or your specific financial circumstances.
SendFX Limited ACN 617 647 220 AFSL No. 509635 (Send) provide Foreign Exchange Contracts and related services. These include both financial and non-financial services.